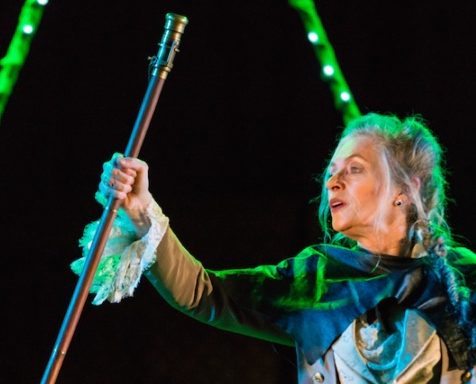 An interview with Prospero, a.k.a. Marya Lowry
The role of Prospero in Shakespeare's The Tempest is not often played by and as a woman. ASP recently chatted with Resident Acting Company member Marya Lowry*, who takes on the role in our current production, about her relationship with Shakespeare in general, and the role of Prospero specifically. Read on for some personal insights into the power of The Bard, and the evolution of her experience with the role and its relationship to other characters in a play!
ASP: What initially drew you to Shakespeare?
ML: In college, I was cast as Puck in A Midsummer Night's Dream, this experience was great fun and woke me up to the wonders of playing in Shakespeare. All my formative theatre experiences were in the classics (Greek, Restoration, Shakespeare – Really!);  they whetted my appetite for exploring larger-than-everyday-life human experiences on stage and the beauty of heightened language.
ASP: What is a key "lighting bolt" Shakespeare moment for you?
ML: The first professional play I attended (at age 18) was Romeo & Juliet (at Buffalo's Studio Arena Theatre). I was gobsmacked! It put me on a trajectory to break the code of this amazing playwright. My first few years as a young professional actor in NYC, Shakespeare performance opportunities arrived in quick succession – Lady Anne (Richard III), Hermoine (The Winter's Tale) Portia (Julius Caesar) Audrey (As You Like It); the die was cast.
ASP: How did you initially make the shift in YOUR mind from thinking of the character Prospero as male? 
ML: I came to this play without preconceived notions about it. I'd never played in it and had only seen 2 productions of it. The role transfers easily to a woman, as there's nothing in the given circumstances that are particular only to a man's life experience or singularly male. Betrayal, hunger for knowledge, parenthood, survival in challenging circumstances, many women know these experiences deeply. Prospero is perhaps the only leading male role that transfers with so much ease.
ASP: Now that you have embodied the role for several performances, how has your relationship to Prospero the character changed? 
ML: Prospero is a bit of a bully early on in the play, and I felt a bit tentative about how strongly to play that aspect of her character. She's not very likable. I trust that much more now. As the story progresses, we see more of her heart and her hunger, what is driving her and how high the stakes are for her in this moment in time. Having lived with her, the other actors, and the audience, for a few weeks, I fully trust her (Prospero's) journey and enjoy the ride! It's a great one. A real gift for the actor. Also, Al's (Allyn Burrow's) direction is easy to trust and lean into; he helms the ship with ease, humor, irreverence and specificity.
One element that has deepened through rehearsal and performance is the depth of my relationship with Ariel. Prospero's journey is always moving toward "farewell's (to her "home", her close relationship to Miranda, to her anger, her desire for retribution and vengeance, to her magic and her power).  As it turns out, my farewell to Ariel might be the most painful farewell of all. I would not have known or planned that before living inside the world of the play and this particular production.
ASP: Any additional insights about the role?
ML: There are so many exciting threads to follow as Prospero. She is full of vengeful anger seeking retribution and revenge on those who wronged her coupled with her spiritual journey toward forgiveness.
I'm particularly drawn to her (Prospero's) relationships with Miranda, Ariel and Caliban – her desire (and failure) to educate and humanize Caliban, her love for Miranda and commitment to assuring her future happiness and position in the world by any means available to her, and her deep affection for Ariel.
It feels to me like journey of loss upon loss that undergird every 'win'. She suffers deep emotional and physical cuts before leaving her island prison. The losses are profound – marrying off her beloved daughter (even to a man worthy of her), thus releasing her to her own future;  freeing her servant Ariel, her only "friend",  for the past 12 years, as well as the process of laying down her drive for revenge and choosing forgiveness feels like a loss. How to navigates the deep losses and the painful farewells even as she fights to regains her dukedom and returns to society offer a rich and compelling journey for me to explore.
I'm interested in her inner drive for knowledge and how much of her brother's betrayal sprang from the fact that she was a seeker of knowledge – an activity seldom admired in a patriarchal culture.
See Marya and the rest of the cast now through January 8 at Willet Hall at United Parish in Brookline.
Photo: Marya Lowry as Prospero in ASP's The Tempest. Credit: Nile Scott Shots.
* Member of Actors' Equity Association, the union of professional Actors and Stage Managers in the United States
You May Also Like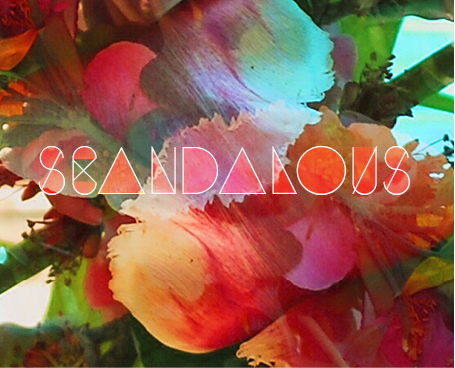 Thank you for supporting our Gala
Oh what a night! See scenes from our Scandalous Gala.
> Learn more