Plays & Events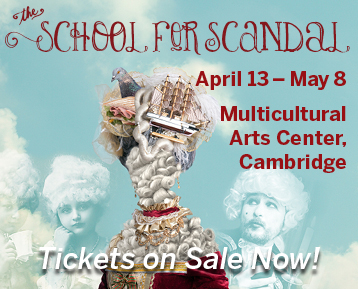 The School for Scandal
Written by Richard Brinsley Sheridan
Directed by Paula Plum
Multicultural Arts Center | Cambridge
Run Time: 2 Hours 30 Minutes
Heartfelt flights of fancy have made this rollicking romp a proven favorite since The Restoration. Intrigue and mischief drive the proceedings to heights of hilarity in this masterful comedy of manners.
Cast
Lydia Barnett-Mulligan* as Lady Teazle / Snake
Gabriel Graetz as Crabtree / Sir Peter Teazle
Sarah Newhouse* as Lady Sneerwell
Omar Robinson* as Charles Surface
Rebecca Schneebaum as Maria
Richard Snee* as Sir Oliver Surface / Backbite
Bobbie Steinbach* as Mrs. Candour / Moses
Michael Underhill as Joseph Surface / Whore / Stanley
Designers
Set Designer – J. Michael Griggs**
Lighting Designer – Karen Perlow**
Costume Designers – Tyler Kinney** and Jen Bennett
Hair and Makeup Designer – Amber Voner
Sound Designer – Darby Smotherman
*Member of the Actors' Equity Association, the Union of Professional Actors and Stage Managers in the United States
**Member of United Scenic Artists Local 829
Getting There:
Parking:
The East Cambridge Parking Garage is entered off Spring Street, between First & Second Streets, one block away from us, and open 24/7.
There is also limited metered parking in the area.
For Rates, Driving Directions, and More Information: Click Here
Public Transportation:
Green Line to Lechmere:
Head left out of the station, and take your first left onto Second Street. Cross over Cambridge Street (staying on Second St.), and our building is just one block away on your right.
Orange Line: Community College Stop (Approximately 15 minute walk):
Take a right out of the station and then another right onto the bridge towards Cambridge and The Royal Sonesta Hotel sign. Exit the station and walk across bridge. Cross the Msgr. O'Brien intersection taking a right onto Cambridge St towards the Lechmere MBTA station. Take a left onto Second St and walk for about two blocks until you reach our entrance.
Red Line to Kendall Square (Approximately 15-20 minute walk):
Exit at the Marriott Hotel and go behind the hotel to Third Street (main intersection). Walk down Third Street until you get to Thorndike Street (Middlesex County Court House Building). Turn right onto Thorndike and left onto Second Street. Our entrance is on your left. Look for our Banner.
Number 69, 80, 87, 88 Bus:
Get off at Lechmere. Walk one and a half blocks on Cambridge St away from Boston. Take a left onto Second Street. Our entrance (41 Second Street) is 1 1/2 blocks on the right.